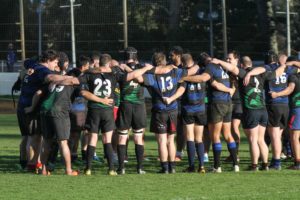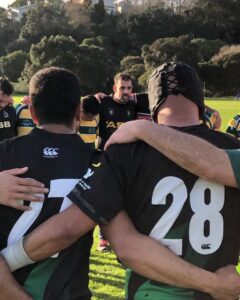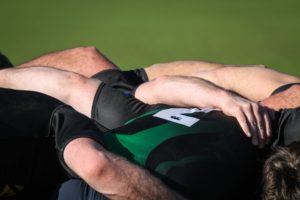 Become a player
We are always looking for new players at the Falcons. It doesn't matter if you're a spring chicken or an old fox, or whether you've never picked up a ball or are going to be the next All Black, we want you to join us!
We train throughout the entire year and over the rugby season (mid March to September) at 6.30pm on Wednesday nights at Cox's Bay Reserve, so feel free to drop in or fill in the link above. Or alternatively, if you just want more information visit our Facebook page.
Become a supporter
If you don't feel like playing, but you still want to get involved, we are always looking for supporters and volunteers to join us on match day! Our fans, friends, and volunteers are what keeps this organisation ticking over, so if you want to be part of a unique and fun loving team please follow us on social media and come on down to our games.
---
FAQs
Do I have to be gay to play?
No, not at all, the Falcons is a gay and inclusive team; our core kaupapa is all about inclusivity and whanaungatanga - we have gay, bisexual, transgender and even straight players of all body shapes, sizes, ages (although you will need to be at least 18 years old) and ethnicities from all around Auckland, even as far as Wellington and Canterbury with us - strength in diversity! As long as you're willing to train hard, play hard, and believe in the team values, you're welcome to come along.
Do I need to be experienced?
No! One of our major goals is to help develop players that are new to rugby in an environment where they can be themselves and are encouraged. We have players that have been in the game for decades and others that have been in the game for weeks.
How fit do I have to be?
Rugby is a physically and mentally challenging game, but one of the great things is that you get fit while you learn. Don't worry if you feel you're not fit enough yet – you'll get in shape quick smart!
Is it too late to join?
No, please contact us or swing by training on Wednesday nights at Western Springs from 6.30pm to join in the fun. Check out our Facebook page for all the info, or email us through.
Where are the Falcons based?
We are incredibly proud and grateful to be affiliated with the Ponsonby Rugby Club in Western Springs, central Auckland. Our home ground (where we train and have our home games) is at Western Springs Stadium Field, and our after match functions take place at the Ponsonby Rugby clubrooms. Internationally, we are the only gay and inclusive rugby team representing Aotearoa New Zealand.
What grade do the Falcons play in?
At present we are playing in Auckland Rugby Union's Presidents grade under "Ponsonby Falcons". We are looking to move into a higher grade in the coming years, but we have found the experience in this grade to be incredibly enjoyable, and helpful in developing players who are new to the game.
Are there any tournaments the Falcons enter?
Yes, absolutely! As New Zealand's only gay and inclusive rugby team, we represent Aotearoa; every alternate year we play in the Purchas Cup which is kind of like the Bledisloe Cup of gay and inclusive rugby. The Falcons compete in this annual trans-Tasman event against Australian clubs – the Sydney Convicts, the Brisbane Hustlers, the Melbourne Chargers and the Perth Rams. The Falcons won the Cup in 2015, competed in Brisbane in 2019, and will next travel to Perth in 2021.
Every two years there is also the Bingham Cup, which is widely referred to as the Gay Rugby World Cup. The Falcons entered their first Bingham Cup in Sydney in 2014 and managed to come away with the Bingham Bowl. We formed a composite team with some of the Sydney Convicts in Amsterdam, 2018.
Recently, the Bingham Cup was scheduled to be in Ottawa in 2020, however due to Covid-19 this had been rescheduled to 2022. The next Purchas Cup and Bingham Cups, respectively are in Perth 2023 (September), and in Rome 2024.
Can Women and Non-binary Play?
For union, as it stands the team has to follow the national and local rules which say that rugby teams must be separated by gender. We, unfortunately, do not have a women's team at present, however, we would love to have one in the future. If you think you can help in this regard please get in touch!
Women and non-binary are welcome to join and play in our touch rugby trainings and games.